Whether you're building a new home or simply upgrading your existing home, the experts at Wasserson Design can help you eliminate light switches, program lighting scenes throughout your home, and create ambiance that enhances your lifestyle.
A lighting control system improves convenience, reduces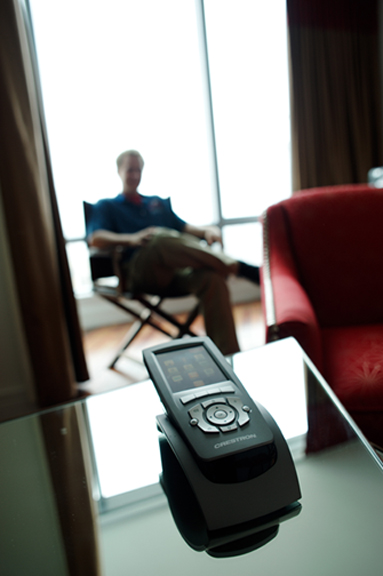 energy costs, and adds value to your home. Imagine no more trips downstairs to turn off the lights at night, thanks to a simple "Good Night" scene that activates with the touch of a button. Or a "Panic" mode that's triggered by your alarm system and turns on all of the lights on your property. Our team can design and install a system that does all of these things and more.
Lighting control possibilities include:
One touch control, to set the perfect mood
Remote access, through your cell phone or web browser
Full residential lighting systems, to control every light in your home
Home theater lighting systems, to create a "multiplex" atmosphere
Lighting Control brands that we carry include:
Lutron Homeworks control systems
Lutron shade control
Crestron home automation
Control 4 automation solutions
The first step in our process is to meet with you to learn about your home, your lifestyle and your needs. Then we can make recommendations and present ideas on how a lighting control system will enhance the time your family spends at home.
So give us a call at 610-668-8000 to schedule your complimentary Home Technology Consultation. We're looking forward to helping you live in higher definition!